Understanding the VET workforce is a challenge for anyone but we have Jennifer Lawrence, Master Builders Australia's Senior Adviser, Industry Policy as our guide to research by the National Centre for Vocational Education and Research (NCVER) on the VET system's size, shape and scope. 
246,167 – the number of people employed in the vocational education and training (VET) workforce in February 2019, according to estimates by the National Centre for Vocational Education and Research (NCVER).
The aim of the NCVER's research was to obtain an estimate of the overall size and nature of the VET workforce, including the number of trainers and assessors employed and the qualifications they hold.
Private RTOs make up 77.7 per cent of all VET training providers and employ over 72,000 workers. On average there are 26 employees per private training provider.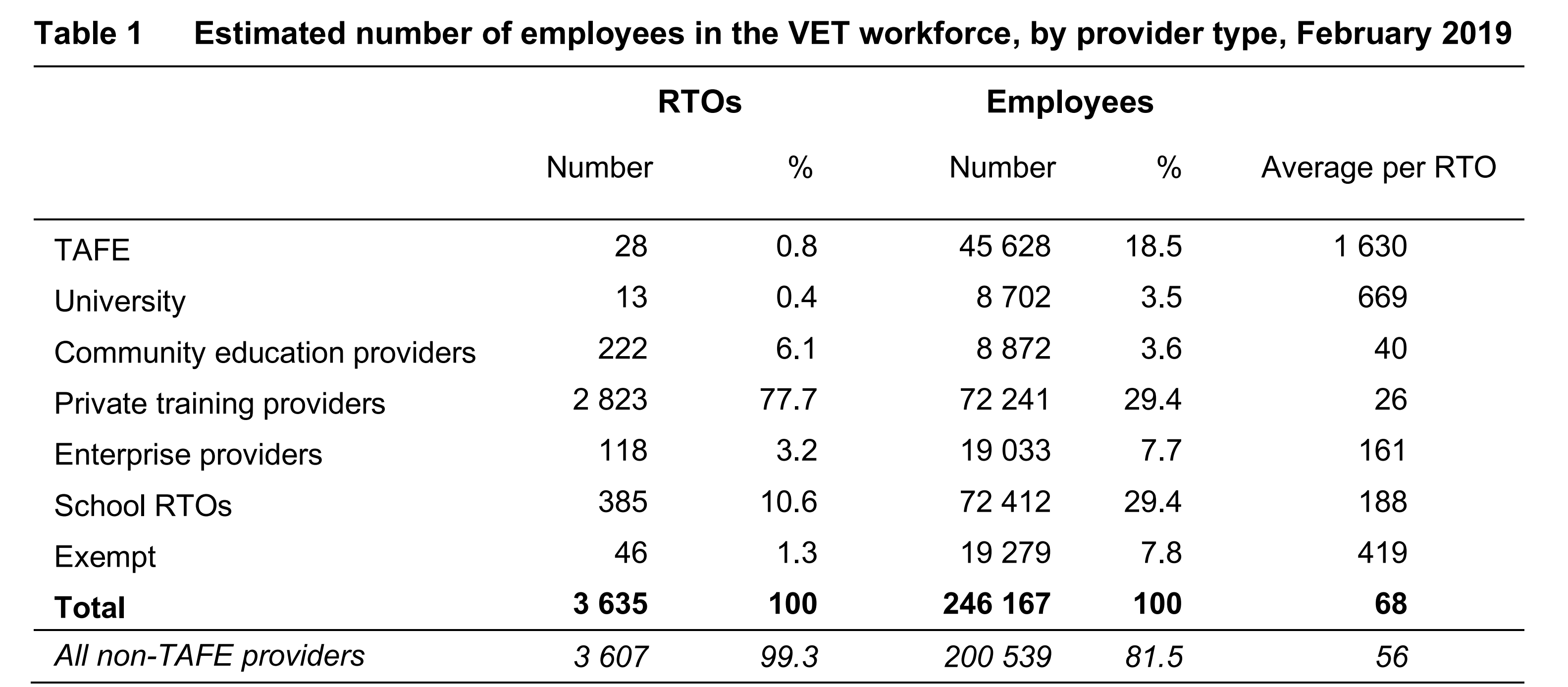 Trainers and Assessors
There are an estimated 71,379 trainers and assessors (trainers) in the VET workforce, representing 29 per cent of all employees. Private RTOs employ 23,113 trainers, 32.4 per cent of their workforce with an average of 8 trainers per private RTO.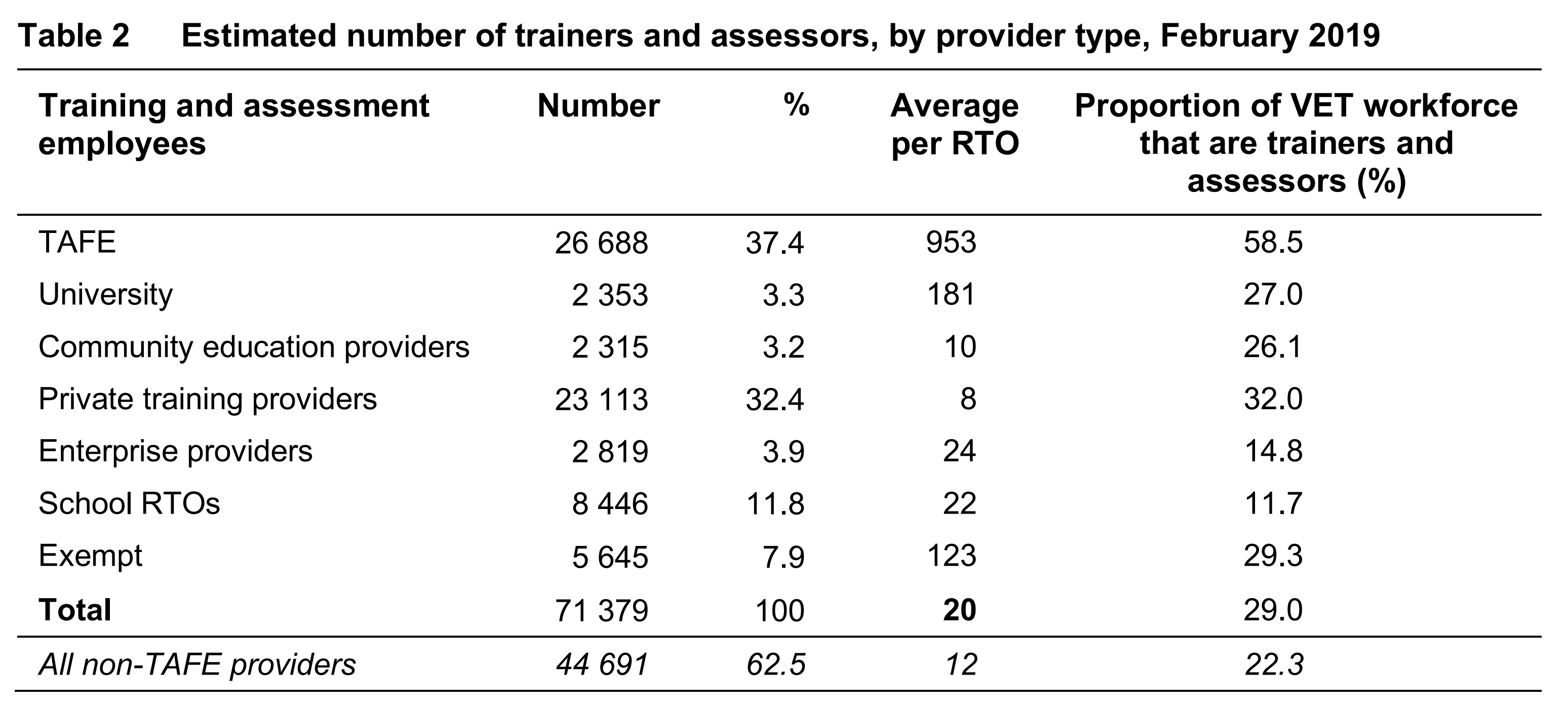 Over half of VET trainers employed at TAFEs, Universities, community providers and private RTOs were employed part time. For private RTOs 48.6 per cent were full-time and 51.4 per cent were part time.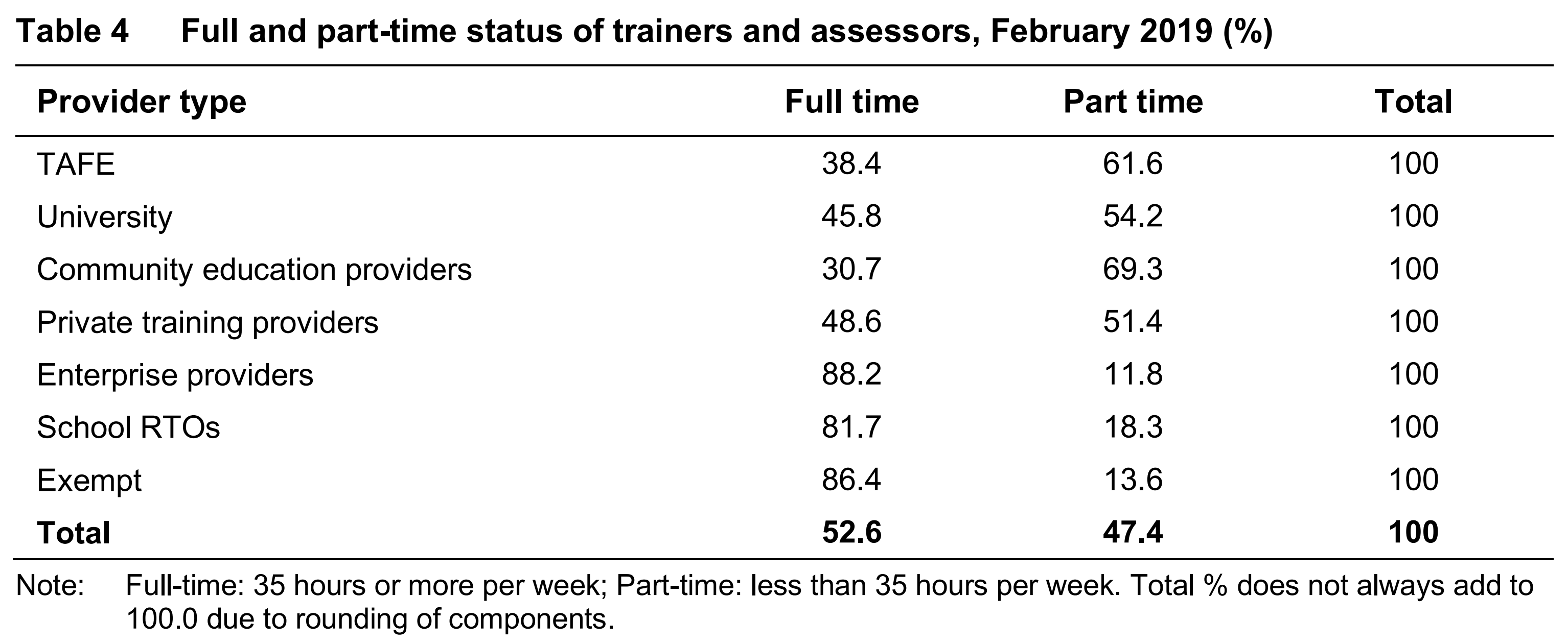 At the time of the survey, February -April 2019, RTOs were required to employ qualified and skilled people as trainers, trainers without a minimum Certificate IV in Training and Assessment could only work under supervision. From 1 July 2019, all trainers require at least the Cert IV. As at February 2019, 93.3 per cent of trainers held at least the Cert IV.
Trainers and assessors are not only required to be qualified in training, but also to have current industry experience and expertise. Nearly 90 per cent of trainers held a Certificate III level or higher qualification in their industry or field of training delivery.

Download the full report.
All tables can be found in the full report. Source: Genevieve Knight, Ian White and Pip Granfield, 2020, Understanding the Australian Vocational Education and Training workforce, NCVER, Adelaide.