The latest data confirms that the effects of the COVID crisis are making it increasingly tougher to run a building and construction business.
What are the factors at play? Jennifer Lawrence, Master Builders Senior Adviser Industry Policy, gives us this snapshot.
Running a business is challenging at the best of times. This is exacerbated in the current operating environment with 69% of construction businesses operating under modified conditions.
COVID-19 is impacting revenue, financial sustainability, investment decisions and employment. Nearly half of construction businesses are reporting a decrease in revenue since a month ago and 70% report that economic uncertainty is influencing their investment decisions. 
Earlier in the pandemic employment was volatile, however this appears to have stablised in recent times. 89% of businesses have remained the same size over the last month (9% have decreased, 2% have increased) and 93% anticipate remaining the same size over the coming month (3% decrease, 4% increase).
Finances
Over the last month, 47% of construction businesses have seen a decrease in revenue. Revenue has stayed the same for 35% and increased for 12%. 6% of construction businesses were unsure. Most (63%) construction businesses expect revenue over the coming months to be relatively stable, however, 27% are anticipating a decrease in revenue.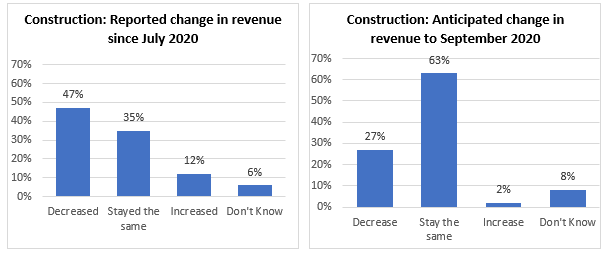 28% of construction businesses report that it will be difficult or very difficult to meet their financial commitments over the next three months. 46% report no change to normal and 24% report it will be easy or very easy to meet their financial commitments.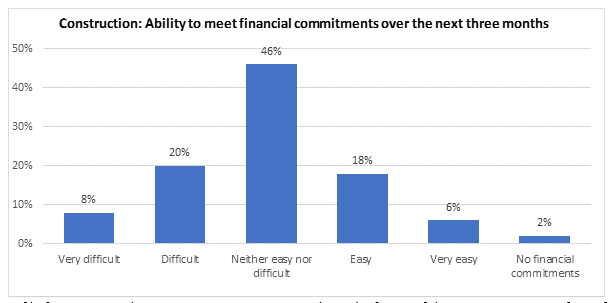 70% of construction businesses report uncertainty about the future of the economy as a significant factor influencing their expenditure on capital. Other factors of influence include expected future customer demand (44%), current customer demand (37%) and government support measures (36%).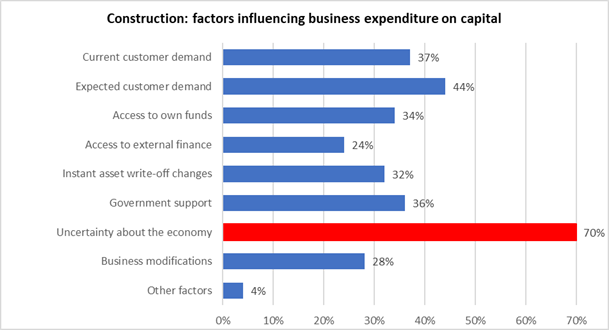 Employment
89% of construction businesses have maintained their business size over the last month and 93% anticipate their business size will remain the same over the next month.
Master Builders Australia and Master Builders Associations around the country understand the severe challenges that building and construction businesses will face, particularly over the next 12 months. We are calling for on the Federal Government to announce in the October Federal Budget stimulus and policy measures to support the industry, protect the viability of building and production busiensses large and small, save and create jobs and kickstart economic recovery.