What does the latest data about funding of VET by governments across the country tell us?
Senior Industry Policy Adviser Jennifer Lawrences breaks down the National Centre for Vocational Education Research (NCVER) data on government funding for VET in 2019.
Total goverment – federal, state and territory funding for VET was $6.4 billion, an increase of 3.2% compared with 2018. This was compromised of $2.6 billion from the Federal Government and $3.7 billion from the states and territories.

As can be seen from the above table, total funding from governments for VET has hovered around the $6.25 billion mark in recent years. In 2017, the Federal Government contribution of $3.1 billion represented 49% of total taxpayer funding but by 2019 this had dropped to $2.6 billion, or 43%. Around the states and territories it was a mixed picture with funding in South Australia jumping up 74% and 46% in New South Wales whereas there was decreases of 3% and 6% respectively in Victoria and Western Australia. The table below shows state and territory government funding in 2018 and 2019 relative to 2017.
Funding by Training Provider
In 2019, 72% of funding for VET delivery and capital funding was allocated to public training providers (TAFEs, polytechnics and government universities).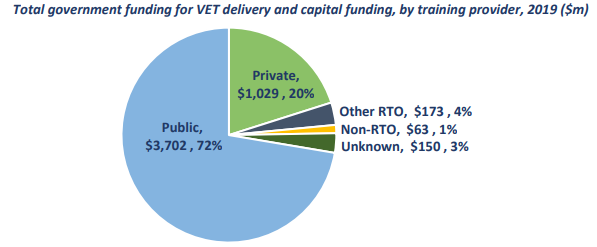 Funding by Expenditure Category
VET funding is spent is split between five categories – VET delivery; employer assistance; student assistance; capital funding; and systems administration/governance. In all states and territories the majority of funding was to VET delivery. The split for Commonwealth funding, however, is different as a substantial amount is made available for employer assistance (51%), the Commonwealth also funds the qualification development process leading to higher systems administration and governance expenditure.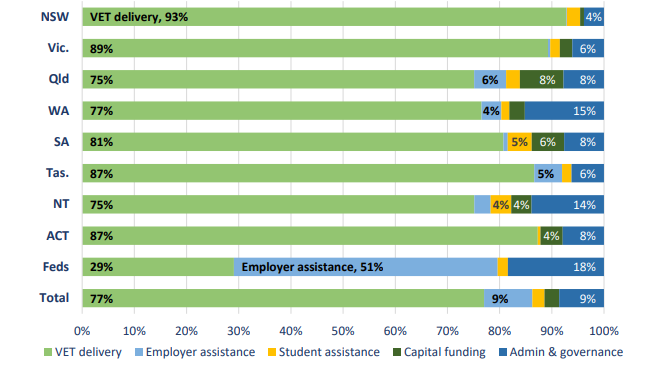 Funding for the Construction, Plumbing & Services Training Package
In 2019, $287.4 million in funding was provided across the country for delivery of the Construction, Plumbing and Services training package (CPC), representing 11.5% of funding for VET delivery. In NSW, Victoria, Queensland and South Australia CPC training delivery was the second highest funded training package, behind Community Services. It was third in Tasmania and the ACT, and fourth in the Northern Territory. In Western Australia, however, CPC doesn't even crack the top ten.