Prior to COVID-19 impacting businesses, 22 per cent of Australian businesses were expecting to increase staff over the coming months. Only 2 per cent expected to decrease staff.
But everything has changed with the onset of the economic crisis brought on by the social restrictions imposed to respond to COVID-19. 
As businesses and individuals saw the impact of COVID-19 in other countries confidence decreased. Over next few weeks we saw businesses increasingly expecting to decrease staff numbers over the coming months and fewer anticipating to increase.
Coinciding with the implementation of lockdowns in Australia, the week ending 20 March saw the percentage of businesses expecting to decrease staff exceed those expecting to increase staff for the first time.
Over the next few weeks confidence plummeted. For the week ending 3 April, 28 per cent of businesses were expecting to decrease staff over the coming months, whilst only 3 per cent expected to increase.
With Australia flattening the curve, businesses sentiment is beginning to improve. As at 1 May 2020, once again more businesses are anticipating to increase staff over the coming months (9%) than decrease (7%).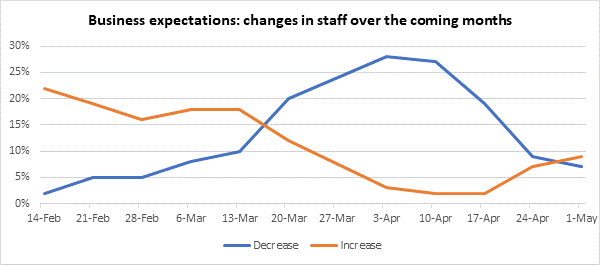 States and territories
Businesses in all states and territories are decreasing staff numbers at elevated levels due to the business impacts of COVID-19. As at 1 May 2020, a lower proportion of businesses in New South Wales reported decreasing staff than in other jurisdictions. Albeit, all states and territories, excluding South Australia, reported between 29 per cent and 35 per cent of businesses decreasing staff. In South Australia 40 per cent of businesses have decreased staff.
Interestingly, while South Australia reported the largest proportion of businesses that have decreased staff, the state also reported the largest proportion that have increased staff, at 9 per cent. One may ponder if the increase correlates with South Australia producing most of the nation's toilet paper.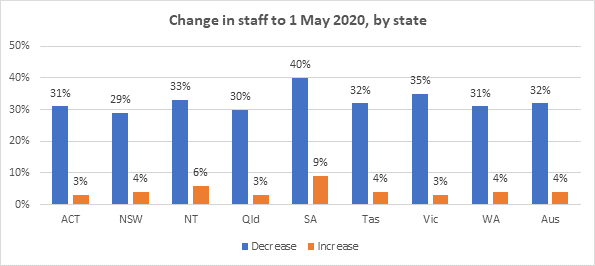 Construction industry
Building and construction is faring better than the Australian average. As of 24 April, 30 per cent of Australian businesses had decreased staff since the onset of the COVID-19 pandemic. However, in the construction industry this was significantly lower at 15 per cent.
Similarly, 54 per cent of Australian businesses reported that COVID-19 has had 'a great deal' of impact on their business, whilst only 32 per cent of construction businesses reported this, the highest level, of impact.
Looking at actions taken by businesses impacted by COVID-19, we see the construction industry is taking similar actions to other business sectors and in a similar frequency.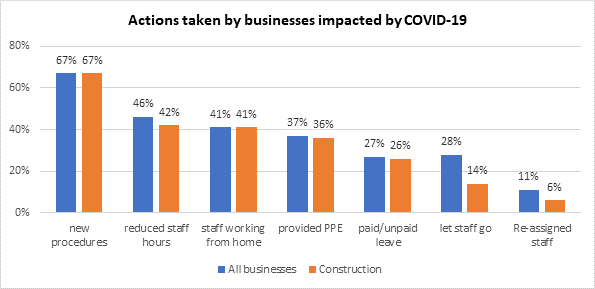 Source: analysis of Department of Education, Skills and Employment survey results
Latest data: 1 May 2020