The latest ABS data shows that the rate of strikes and illegal stoppages in the construction industry has doubled, accounting for almost half of the entire Australian total.
"Today's data is clear and independent evidence that the Australian Building and Construction Commission (ABCC) must be retained to tackle the worsening behaviour from building union bullies," Denita Wawn, CEO of Master Builders Australia said.
"It's the community that pays the price," she said.
"Just when people are feeling like the cost of everything is going up constructions unions are forcing them to pay up to 30 per cent more for their schools, hospitals and roads," Denita Wawn said.
"The construction unions' culture of bullying is getting worse which is exactly why we need the ABCC," she said.
The construction industry had the highest number of working days lost due to industrial disputation over the December quarter 2018 (13,200) – accounting for 43% of all days lost to disputes – and almost double the amount in the previous quarter (6,900).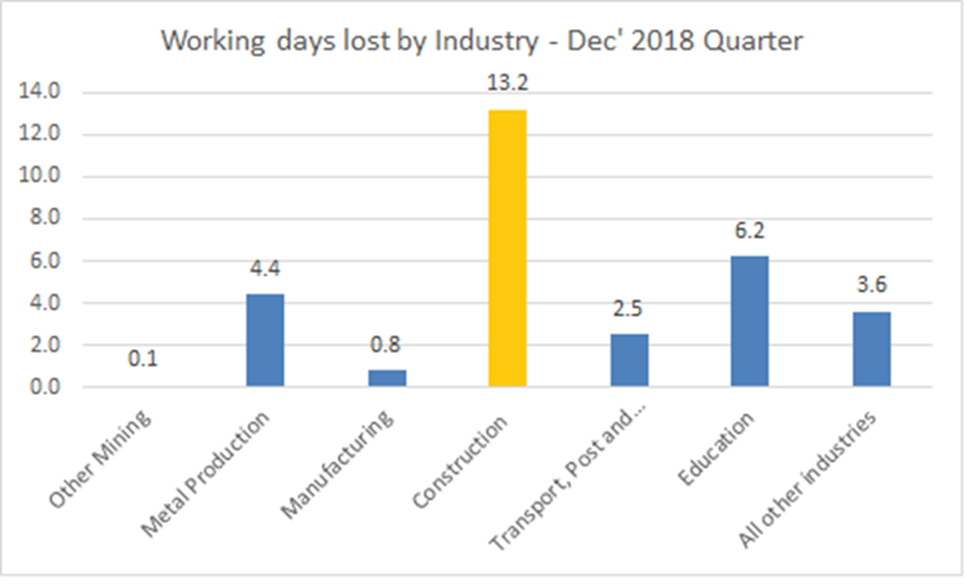 While this is lower than the average days lost when the ABCC was abolished (around 20,000), it remains far higher than the average when the ABCC first existed (6,700).
"Days lost to strikes in construction have doubled, and we now represent almost half of the national total across all sectors," Denita Wawn said.
"There is no hiding from the fact that strikes and disputes in construction are getting worse, with building unions showing no sign of wanting to change culture and play by the rules just like everyone else," she said.
"This shows that while the ABCC is making a positive impact, it still has much work to do tackle the culture of building union bullies who appear to believe they are above the law," Denita Wawn said.
"The ABCC must be retained until building unions learn to obey the law like everyone else," Denita Wawn said.