Weekly Payroll Jobs and Wages in Australia, week ending 30 May 2020
Jennifer Lawrence, Master Builders Australia's Senior Adviser Industry Policy sheds some light on the state of play in our industry
The latest jobs and wages data from the Australian Bureau of Statistics (ABS) confirms that the building and construction sector continues to fare better than average, however, the gap is closing as other sectors begin to reopen and recover.
The chart below compares job losses in the construction sector against all sectors. With the commencement of stage 2 COVID-19 restrictions on 22 March 2020 we see jobs decline strongly across all sectors. Declines in construction jobs were more moderate as construction sites remained open.
The week ending 18 April 2020 marked the low point for jobs across all sectors (down 9.1 per cent since 14 March 2020). Since this date the number of job losses has recovered each week. This is likely a combination of government stimulus, particularly the JobKeeper Scheme, and Australia's strong performance against the virus renewing confidence.
While job losses in the construction sector are less severe than across all sectors, we are yet to see a recovery in job losses. Master Builders is hopeful that the Government's HomeBuilder Initiative and recent civil construction announcements will assist the construction sector on the path to recovery.
Since Australia's 100th confirmed case of COVID-19 on 14 March 2020 construction sector jobs across the country have contracted by 5.8 per cent and wages by 7.8 per cent. This compares favourably to the average across all sectors, which shows a 7.5 per cent contraction in jobs and 8.3 per cent decline in wages.
Accommodation and food services continue to struggle, experiencing a 29.1 per cent decline in jobs since 14 March. Arts and recreation services are not faring much better with 26.3 per cent job losses.
Jobs in construction sub-sectors
The most significant decrease in construction sector jobs was experienced in the first four weeks post the 100th confirmed case of COVID-19. During this period construction jobs decreased by nearly 5 per cent. Since then, the rate of decline has slowed. In the seven weeks since 11 April job losses in the construction sector have been contained to less than 1 per cent.
In the first six weeks the three construction sectors – heavy and civil, building, and services – tracked similar same paths of job losses. Building construction and construction services then began to plateau, while heavy and civil engineering construction experienced further job losses. There was an upturn in jobs for the building sector in the fortnight to 16 May, before a crash in the last two weeks. The last week has been positive for heavy and civil construction jobs, experiencing a 0.8 per cent recovery in jobs to now record the lowest level of job losses of the three construction sectors.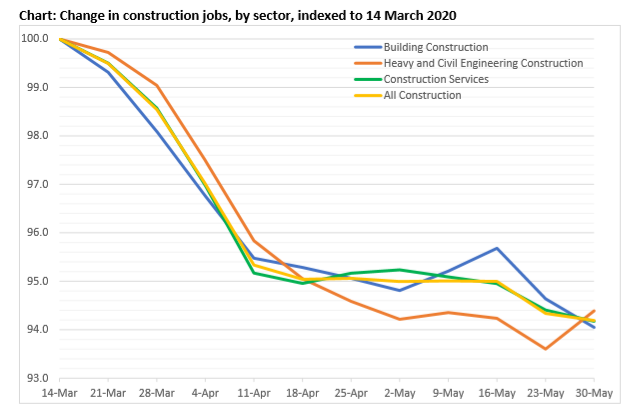 Construction jobs in the states and territories
Across the states and territories, South Australia has seen the least reduction in jobs since 14 May at 4.4 per cent, while Tasmania has experienced the largest decline at 7.5 per cent.
In comparison to average job losses across all industries, the construction sector has performed relatively well. In all jurisdictions, excluding Western Australia and the Northern Territory, job losses in the construction sector have been below the average across all industries. In Western Australia construction is equal to the average at 6.5 per cent and in the Northern Territory construction sector job losses, at 6.1 per cent, are 0.4 per cent more than the average.
With restrictions beginning to ease across the country, other sectors are starting to recover. Job losses in May, across all sectors, recovered by 1 per cent. However, over the same period construction jobs declined by 0.8 per cent.